Skip to Content
CLASSIC RIB METAL ROOFING IN PORT HURON, MI
Classic Rib Metal Roofing
For the past 25 years, we here at First Response Roofing and Construction, LLC have been working in conjunction with other roofing contractors to deliver custom metal roofing that fits the needs of their customers perfectly. If you have never worked with us before and are in need of sheet metal fabrication in Port Huron, MI, we would love to discuss your project. We have an in-house, state of the art sheet metal fabrication shop where we custom build sheet metal roofing components and entire roofing systems for our clients. When you have complex specifications for the sheet metal parts you need, we are the company to call. We have produced some of the highest quality metal roofs and sheet metal roofing materials for some of the most renowned roofing contractors in the area. One of our most produced materials is our classic rib metal roof panels, however, we are able to produce any type of metal roofing material you could possibly need! Give us a call at 810-294-5009 for more information.
Classic Rib Metal Roofing
United Steel Supply furnishes Galvalume®, galvanized and prepainted steel coils for metal roofing and siding applications to the agricultural, commercial, industrial and residential markets, both domestically and for export.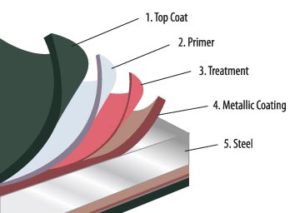 Our products are made of the highest quality steel, allowing our customers to maximize production efficiency and provide top-quality material and efficient yield to their final users.
United Steel Supply offers its coils in over 40 colors with color-matching capabilities to match your specific building project. We use three different types of paint coatings for our prepainted coils. These coatings include a polyester coating, a SMP Weather XL™ coating and a Fluoropolymer paint coating.
Call Us For More Information
We are capable of all of these kinds of fabrication projects and so much more. If you don't see the service you need listed above, don't worry. Our sheet metal fabrication shop can crank out top-quality metal roofing systems and individual components no matter how demanding your project is. We work quickly too. Though we specialize in producing classic rib panels, we can provide you with whatever metal panel product you are in need of! When you need the job done right without wasting any time, Contact First Response Roofing and Construction, LLC for sheet metal fabrication in Port Huron, MI!
Contact Us Today To Receive A Free Quote